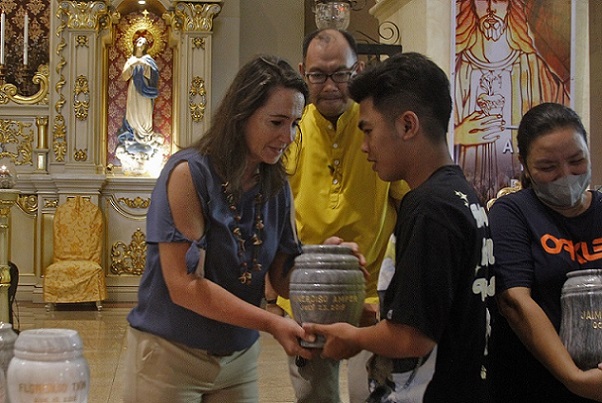 "I think he is into drugs."
Fr. Flavie Villanueva was referring to Sen. Christopher Lawrence "Bong" Go, who suggested on May 23 that former president Rodrigo Duterte be named as anti-drug czar. Duterte's presidency was notorious for the brutal drug war that killed more than 20,000 (official police figure is more than 6,000) persons.
Thankfully, Duterte shot down immediately his former aide-turned-senator's idea, saying that it is President Marcos Jr.'s call now and he should be given "the greatest elbow room, leeway to do his job."
Fr. Flavie does not buy the line that the Duterte administration's murderous war against illegal drugs is much more effective than the current government's strategy, given the recent expose of police involvement in illegal drug trafficking. "Ang mga nahuhuli nila noon ay mga nasa laylayan. Ang mga nahuhuli nila ngayon ay malalaking isda."
(The ones they caught before were those in the low fringes of society. The ones caught now are the big fishes.)
Fr. Flavie knows the heavy toll of Duterte's "kill, kill, kill" formula, having taken care of hundreds of orphans, widows and widowers left behind by the victims of those bloody operations.
At the time of the interview, Fr. Flavie was officiating the blessing and turnover of urns to the families of six victims at the Sacred Heart of Parish Shrine in Quezon City. The event was part of Program Paghilum (Healing), which helps widows and orphans of EJK victims in rebuilding and re-creating their lives.
Under "Project Arise," the remains of the victims of extra-judicial killings, which are buried in apartment-tombs that are for lease for a limited period, are exhumed. Scientific autopsy is conducted as part of the families' search for truth and justice.
The remains are then cremated, put into urns and turned over to the families. Later, the remains are laid to a permanent and dignified resting place.
The six victims remembered and blessed last March 23 were Jaime Alcover, 25; Henerciso Amper,50; Erwin Garzon, 37; Florencio Tion, 60; Jampol Barros, 26; and Pablo Cabangon, 46.
Each of those urns contains stories of pain and anguish that Program Paghilum is helping the survivors in turning them into testaments of faith and courage.
Normie Alcober, sister of the victim, remembers the midnight of Oct. 05, 2017 when they were awakened by the loud banging on their door in their house in Tondo. When they opened the door, they were confronted by armed men who ordered her and her children out of the house. Inside the house were Jaime, who was still asleep, her father, her uncle and cousins.
After a few hours, the intruders brought out two dead bodies wrapped in blankets and dumped them in the compartment of a waiting vehicle. The two bodies were those of Jaime and her uncle. Her father was jailed and was not allowed to visit Jaime's wake.
Henerciso Amper's partner, Nancy Imbat, said that on July 23, 2018 he told her he was going to the market to buy food. He never came back.
Nancy learned that while Henerciso was buying food someone approached him and shot him to death. This happened in Camarin, Caloocan City.
On Sept. 14, 2016, two unidentified masked men barged into the home of Erwin Garzon in Bagong Silang, also in Caloocan City, and shot him on the head. He died instantly.
His death certificate states he died of pneumonia.
Marie Tion said that on the evening of July 29, 2018, she knew her husband Florencio was having a drink with his kumpare. After a while, a neighbor told her that Florencio was shot. She brought him to the hospital where he died 20 days later.
Medarda Barros said that on March 7, 2018, her son Jampol stepped out of their house in Camarin, Caloocan City. Then she heard shots. When she went out looking for her son, she saw him lying on the ground, face down, soaked in his own blood.
Witnesses said Jampol was just sitting when two men on a motorcycle came, shot him and sped away.
Pablo Cabangon from Bagong Silangan, Quezon City was killed on December 02, 2016 and is believed to be a victim of a deplorable police practice of palit-ulo ( head exchange).
Pablo's daughter, Princess, said the police went to someone in their community who pleaded for his life and offered to lead them to another person, who turned out to be her father.
The police barged into their home and shot Pablo on the head. They also shot her brother who luckily managed to escape.
Dutch Ambassador Marielle Geraedts, who witnessed the turnover of the remains, said she was "in awe and perplexed by the massive disruption and impact the war on drugs has had on the lives of the families."
At the same time, she said she saw hope and inspiration from the courage of the families of the victims: "Truly, the fight for accountability and justice may be a long one, but it is one that you have all chosen to take on."
She then shared: "For the Netherlands, we do not only believe that human rights are the cornerstone of democracy and peace, but also that lasting peace must be based on justice. There can be no justice without accountability. We believe in the value of rule of law and accountability. There must be a focus on inclusive involvement and a voice for victims at all stages of the accountability process: documentation, evidence gathering, prosecution, sentencing and redress."
She expressed admiration for the work Fr. Flavie was doing: "You have created a caring community that gives hope amidst uncertainty and fear. And for that, we thank you for your service and leadership."
Speaking to an eight-year-old son of one of the victims who was hugging tightly the urn containing his father's ashes, Fr. Flavie said: "Huwag ka nang umiyak. May paglalagyan na sa kanya. Wala na diyan si Tatay. Malaya na siya ngayon sa langit." (Don't cry. Your father is not there anymore. He is now in heaven where he is free.)