The much-awaited Cine Malaya festival, a showcase of intelligent and sensible movies by Filipino filmmakers, will be on Aug 2-10 in CCP Theaters and Ayala Cinemas in Metro Manila.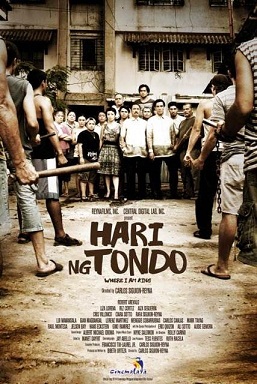 There are 11 films participating. I have marked on my schedule "Hari ng Tondo" by Carlos Siguion-Reyna. Script by Bibeth Orteza.
A grandfather played by Robert Arevalo finds out he lost his fortune the day his granddaughter (Cris Villonco) told him her wedding is not pushing through and his grandson (Rafa Siguion-Reyna) disclosed he is not graduating from college – again.
The patriarch, thinking that his grandchildren's' lack of direction in life is due to their sheltered upbringing, he decided to bring them to Tondo, his birthplace.
The Tondo visit not only made an impact on the Forbes Park- bred youngsters but also to the old man who found out that Tondo is no longer the same place as the one he grew up in.
Also starring: Eric Quizon, Aiza Seguerra, Gian Magdangal, Ciara Sotto.
Other CineMalaya entries: "Hustisya" by Joel Lamangan, starring Nora Aunor; "Kasal" by Joselito Altarejos,starring Polo Ravales; "The Janitor" by Michael Tuviera, starring: Dennis Trillo, Richard Gomez, Irma Adlawan;

"Asintado" by Louie Ignacio; "Sundalong Kanin" by Denise O'Hara/Janice O'Hara; "Separados" by GB Sampedro; "Ronda" by Nick Olanka; "Mariquina" by Milo Sogueco;
"K'na, The Dreamweaver" by Ida Anita Del Mundo; "Children's Show" by Derick Cabrido; and "Dagitab" (Sparks) by Giancarlo Lauro C. Abrahan V.
For schedule of screening, you may go to: http://www.dalebacar.com/2014/07/cinemalaya-2014-complete-screening.html.